January 15, 2011
- The LMSC Storm (U-10A girls) traveled to Rider University on January 15 to compete in the New Jersey State Futsal Championships. They returned to Pennsylvania as the New Jersey State Champions for the second straight year.
The Storm bested Manhattan Crew Red (New York) 3-1 to start the tournament. Then faced a tough Morris/STA Futsal Academy team from New Jersey. After taking a 3-0 lead, the Storm found themselves' tied 3-3 with a minute left to play when Carly McIntosh hit a rocket of a shot from 65 feet out that the STA keeper couldn't handle. and the Storm won 4-3. Game three saw the Storm facing another Manhattan (New York) team the Storm cruised to an easy 7-2 win in this game.
The team was now 3-0 going into the final against DTS Futsal Academy (New Jersey) the Storm got off to a great start in this one, and erupted for five straight goals to take a 5-1 win and the Championship. Congratulations to all the girls.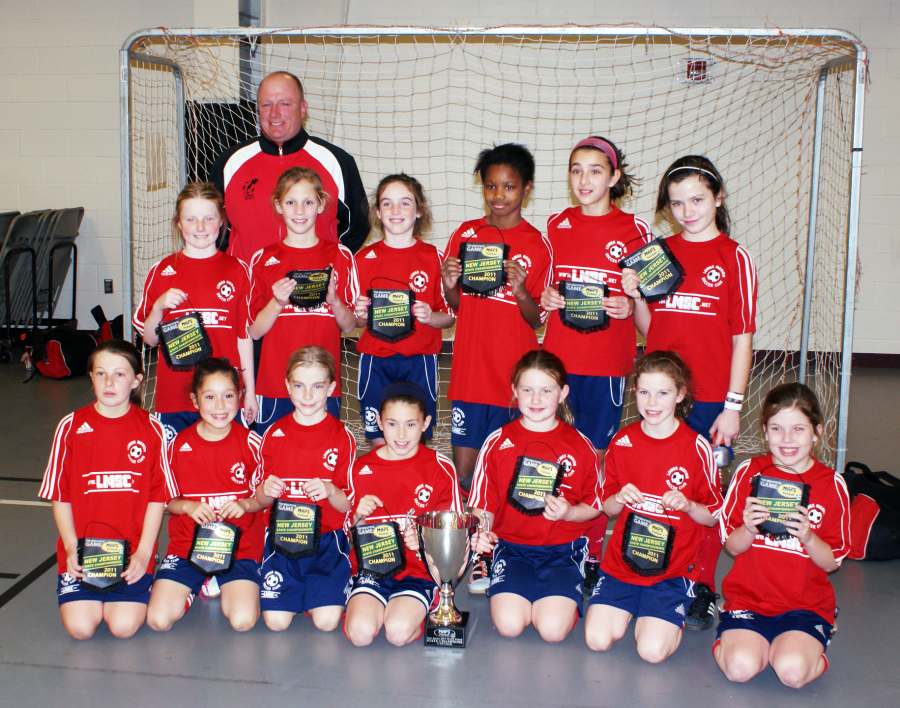 Back Row: Head Coach Pete Gangl

Middle Row: Phebe Guenther, Morgan Rees, Sydney Parmet, Carly McIntosh, Simi Bleznak, Kate Depillis

Front Row: Lily Elman, Celia Page, Lauren Bracken, Natalie Sgro, Gabby Mazonni, Teresa Hegarty, Reilly Short.