November 14, 2010
- November 14 -- The LMSC Rage are co-champions of the fourth division in the U14 Delco league after tying the Pottsgrove Falcons in an exciting championship game.  After 70 minutes of regulation time, the Rage and Falcons were tied 1-1 and after 20 minutes of overtime, the score was level at 2-2.  The teams played an additional 10 minutes of scoreless overtime and were declared co-champions. 
The Rage reached the championship game by defeating the regular season leader  Saucon Valley by the score of 3-1 in the semi-finals.   Throughout the season, the Rage demonstrated tenacious defending, excellent goalkeeping and creativity in the offensive third while demonstrating very strong character and sportsmanship.
The Rage is led by coach Bill Brady and assistant coach Joe Howard, head coach and assistant coach, respectively, of the Haverford College men's soccer team.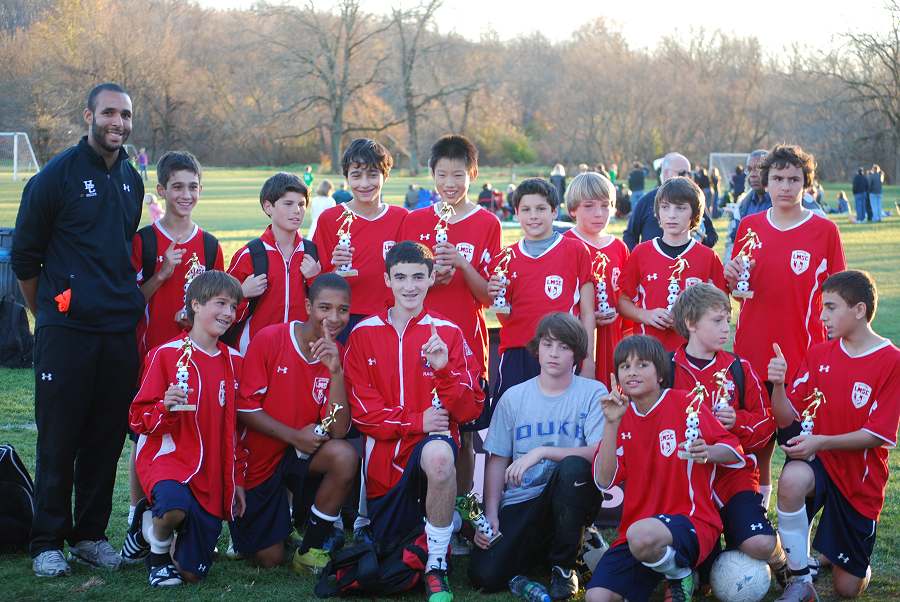 LMSC RAGE: Under 14 DIVISION 4 CO-CHAMPMIONS

Back Row: Assistant Coach Joe Howard, Alex Cuokos, Sander Haigh, Adam Poluka, Geoff Kao, Alec Haas, Jamie Leyden, Ben Lorry, Kippy Garino
Front Row: Adrian Moscol, Lane Odom, Jack Soslow, Jonathon Pontecorvo, Andre Kelly, Nate Ulrich, Sina Mortazavi
Not Pictured: Head Coach Bill Brady, Jesse Bregman