August 3, 2010
- Luca and Giacomo Giordano are two of LMSC's star players. Giacamo plays for the LMSC Rampage, our U-12A travel team. Luca plays for our U-10A team, the LMSC Sabertooth Rats. He scored the first goal in the Sabertooth Rats state championship victory game in May.
Their father Antonio played professionally for Napoli in Italy in his younger days. The boys spent much of this summer in Italy and got to attend the Napoli vs. Wolfsburg friendly, which Napoli won 2-1.
Before the game, Napoli introduced their new star player, Edinson Cavani, a starting striker for the 2010 Uruguay World Cup team, to the Napoli fans. He was escorted onto the field by Luca and Giacomo who got to participate in the pre-game cermonies.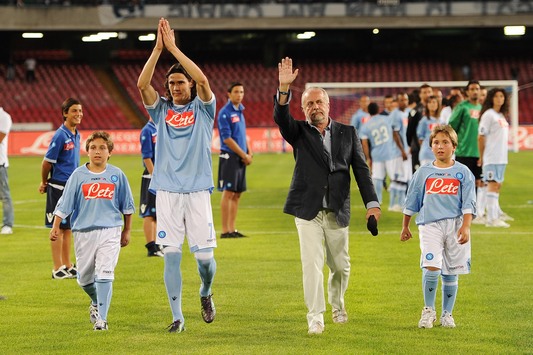 Luca Giordano, Cavani, Napoli Club President Aurelio De Laurentiis, Giacomo Giordano